Hotel-Baia-degli-Dei-1900×700-min
Hotel-Baia-degli-Dei-1900×70022-min
Hotel-Baia-degli-Dei-1900×7002-min
Hotel-Baia-degli-Dei-1900×70023-min
ROOMS
200 rooms of various types

The hotel has 200 nicely furnished rooms, almost all with veranda terrace, located in the main building and in separate buildings on one or two floors, all equipped with TV, telephone, minibar (with refill on request at extra charge), safe, air conditioning, bathroom with hairdryer.
Comfort rooms for 2/4 people (most with bunk beds) spacious and comfortable, some with a mezzanine floor in the main building, double rooms available for 4/5 people;
Classic rooms for 2/3 people, with simple and functional furnishings;
Superior rooms for 2/4 people in a privileged position, very spacious and comfortable, some with double room.
RESTAURANT

The central restaurant, with reserved tables, offers a buffet service for breakfast, lunch and dinner, with drinks included with meals. Near the beach, a second restaurant, open by reservation and at the management's discretion, offers fresh, light meals. Two cafés, one in the main building and one near the beach, to enjoy sparkling moments of relaxation.
Enjoy your all-inclusive holiday without missing a thing! This summer you can request your morning cappuccino, drinks at mealtimes including draught beer, children's snacks, sunset aperitifs and evening cocktails at no extra cost in our AperiTHcaffè.
We'll take care of the rest!
A healthy breakfast to start the day
We want to make your morning more tasty than ever by welcoming you to the dining room with a rich variety of proposals: fragrant croissants filled as you wish and the sweet specialities of Pasticceria Giotto, twice as good because they are the result of an important social project. 
Add the colours of fruit and all the aroma of Italian espresso coffee and the day is sure to start with the right amount of energy.
A cuisine that speaks Italian
Our chefs propose new menus every day that tell of a cuisine based on seasonality and local specialities.
Rich buffets with typical dishes, appetizing dishes with a Mediterranean aroma and original recipes of good Italian cuisine, with particular attention to children and those with special dietary needs.
Would you like to enjoy the peace and quiet of the beach even at lunchtime?
You can use our app to request your favourite dish from our menu and we'll bring at the pick up.
With a simple click and you can enjoy all the relaxation you deserve!
Ristoland, special dishes for little gourmets
We have dedicated an exclusive area to our young guests, where every day, for lunch and dinner, they can enjoy delicious dishes prepared by our chefs, in the company of the TH Crew. We also organise themed dinners to combine good food with fun.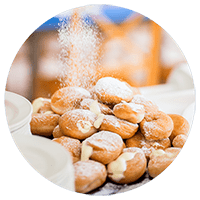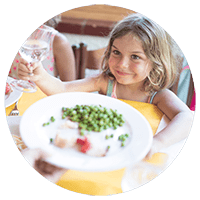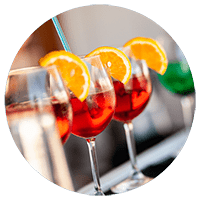 Exclusive reserved table
At each meal, our wait staff will reserve a table just for you and your family.
If you'd rather have the exact same table for the duration of your holiday, you can request it when you make your reservation, thanks to our VIP programme.
All Inclusive
With the All-Inclusive formula you can enjoy, free of charge throughout your stay, espresso coffee, two flavours of granita and soft drinks on tap in glasses in all the bars in the hotel for the entire duration of their opening hours. From 12:00 to 11.30pm, the central bar serves aperitifs, wine, prosecco, beer*, bitters* and grappa*. Spirits and cocktails from 8.30 p.m. to 11.30 p.m. only at the central bar. Afternoon snack for children at our TH LAND.
*also available at the beach bar.